$12.99
Regular price
$25.98
Sale price
Unit price
per
Sale
Sold out
Whole Shop! Buy more, Save more!
🎉BUY 2 GET 10% OFF🎉
🎉BUY 3 GET 15% OFF🎉
🎉BUY 4 GET 20% OFF🎉
Does the sound of the washing machine ring in your ears? Or dirt has accumulated under the refrigerator! ! Can't clean the floor properly? Then this product is for you look at the solution£¡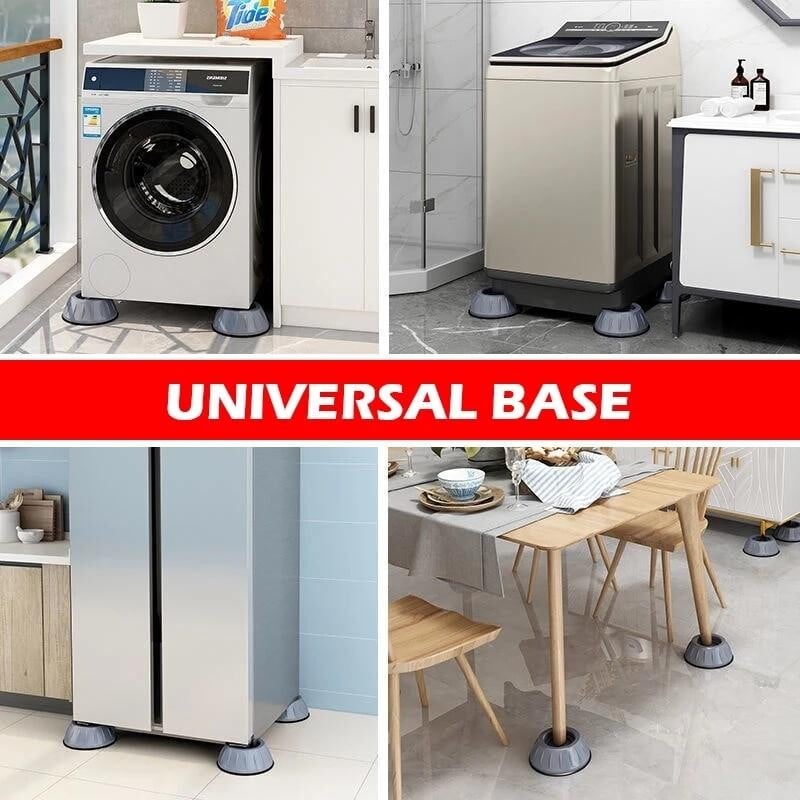 ¡¢
Why you need to use it:
Eliminate the noise/vibration of the washing machine.
The bottom of the freezer is increased to a height below 1.6 inches which makes it easier to clean and eliminates the damp feeling at the bottom.
Do not allow unwanted stains to fall on the floor.
Good grip will not cause any damage or noise to the furniture.
To ensure the safety of the floor.
Long-term protection from pollution
Extend the durability of furniture
There is no trouble cleaning the house.
Floor protection:It has anti-vibration and non-slip plastic pads with a shock-absorbing suction cup which can protect the floor by absorbing excessive vibration from the washing machine.
Non-slip mat£º Due to the honeycomb traction mode of the cushion the vibration of the washing machine and dryer is greatly reduced. Therefore it will not shake due to vibration.
Reduce noise pollution: It can effectively reduce 99% of vibration prevent noise and give you a calm and comfortable experience.
Height and level: Putting furniture and electronic equipment a few centimeters away from the floor can effectively prevent moisture from being ventilated and can also be easily cleaned.
Multi-purpose and general size:You can use these cushions anywhere in your home and it is compatible with any type of furniture such as washing machines dryers refrigerators tables sofas beds and other furniture because of its high-quality materials and good carrying capacity.
Tips:
The original version can raise the appliance by about 4.2 cm
The New versions A B and C have 1 2 and 3 layers respectively. Can be

flexibly disassembled and combined

!
Shipping

The time frame of order delivery is divided into two parts:

Processing time: 1-3 Days
Shipping time: 7~9 Days
Shipping Costs: Free shipping UK over $45

Shipping methods:4PX、YunExpress、Wanb Express、UBI
Affected by Covid-19, there will be some delay on the delivery.
Why Choose Us?

More Choices for A Better Life

QPCASES is the global online retailer with an affordable item for every hobby and lifestyle. Home improvement, electronics, fashion and beauty supplies: available worldwide at unbeatable prices. For convenient shopping and everyday savings, make QPCASES a part of your life today!

High Quality with Global Standards

Every QPCASES product undergoes an extensive testing and quality control procedure, ensuring each and every item purchased meets global quality standards. QPCASES offers only the highest quality products, assisting customers to shop with confidence.

Low Prices Direct From Factory Suppliers

As a global online retailer, QPCASES has developed long lasting relationships with factories, distributors and warehouses throughout the wholesale community by eliminating unnecessary costs and delivering the lowest possible prices to the worldwide customers, we committed to providing high quality merchandise for less.

Easy & Safe Online Shopping

With a wide variety of payment options, QPCASES offers convenience to the worldwide customers. Purchasing options include PayPal, Visa or MasterCard. QPCASES works with PayPal site which is highly secure. It uses industry-leading technology (such as SSL) to keep your information safe.

Convenient & Friendly Customer Service

QPCASES offers excellent, comprehensive customer service every step of the way. Once you've made a purchase, our customer service representatives are always on-hand to answer questions through our website. Shop with confidence and save more with QPCASES!
Contact Us

Customer Service - Hours of operation:Monday through Friday 9:00 AM to 5:00 PM EST
Saturday 10:00 AM to 6:00 PM EST
Sunday Closed.

Email:service@qpcases.com
More Details
Non-Vibration Washing Machine Feet-4PCS