$24.95
Regular price
$48.99
Sale price
Unit price
per
Sale
Sold out
Whole Shop! Buy more, Save more!
🎉BUY 2 GET 10% OFF🎉
🎉BUY 3 GET 15% OFF🎉
🎉BUY 4 GET 20% OFF🎉
Some of us might be holding onto bras we've been wearing for the past 3 years. If that's your story, don't worry—you're not alone. It can be hard to let go of a favorite piece of lingerie you spent hours searching for and even longer lounging in. But all good things must come to an end, and bras—even the pretty ones—are no different. 
Here's a good rule-of-thumb to remember: Replace your bras every 6 to 12 months. 
Keep an eye out for these warning signs that indicate a bra should be replaced:
Cups are stretched out and no longer fit well
Cups are too small
Band is no longer snug and comfy
Little threads of elastic can be seen poking out
Straps are loose
Underwire pokes or digs at you
Fabric is frayed
Color is faded or splotchy around the straps
In any of these cases, it's time for a new bra.?
If you don't know the size of your Bra, you can order it according to the size chart.??
DESIGNED WITH YOU IN MIND
No matter what you do, this bra offers the bust support you've been looking for. Designed with you in mind, with a high back and extra-wide extra-wide sides that will give shape and softness to the contour of your torso, avoiding the uncomfortable rolls that appear with traditional bras.
MINIMIZE BACK FAT REALLY GOOD
I never thought I could find a bra that could hold my back fat in while making my huge juicy melons look perky !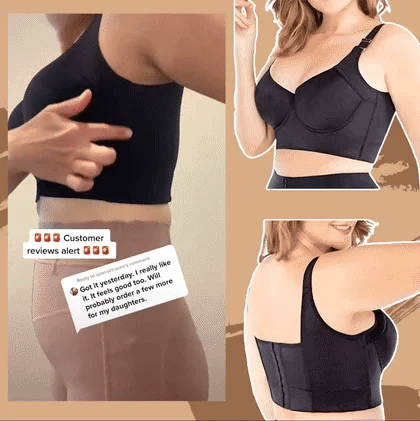 MADE OF TOP-NOTCH FABRICS THAT OFFER THE BEST SHAPING EXPERIENCE
This compression bra helps to improve posture.You can use my Fashion Bra every day, it's so comfortable, you'll hardly notice you're wearing it. It will instantly improve your posture by helping you relieve tension in your back and neck. 

HOLDS AND LIFTS YOUR BOOBS ALL AT ONCE
These bras have 4-way stretch fabric that is flexible to fit you for all-day comfort.The design of 5D seamed cups, wide side wings, strong cushioned shoulder straps, and U-shape back panel ensures maximum support against sagging while smoothing back bulges and correcting armpit fats for a flattering silhouette.
HELP TO IMPROVE POSTURE
This Bra is so EXTRA! We love ❤️ it! It is made with Powernet in the back area which allows for more compression and support. Our Bra is Made of top-notch fabrics that offer the best shaping experience.  It keeps everything in the right place at the right compression. 
Wide Elastic at the base for greater support. Sides are wide with anti slip elastic on top.

FOR MANY OCCASIONS
INVEST IN BETTER SHAPE TODAY
 MORE DETALIS